Hardwood mats and timber mats are made of dense mixtures of hardwoods. They can be tough and durable, but are extremely heavy, non-engineered (non-tested), and untreated.
This is why we prefer to use emtek Engineered Hardwood Mats. Emtek mats are engineered using select southern hardwood to create a true laminated mat (glued and bolted together). This process yields the strongest wood mat on the market enabling heavy equipment to operate on soft or unstable soil conditions.
Because of their professionally engineered construction, emtek mats are twice the strength or half the weight of traditional hardwood mats, creating a safer project site and providing big savings on freight. New South's team will conduct a site analysis and offer the best access solution for your project and be sure that your job is done correctly from beginning until end.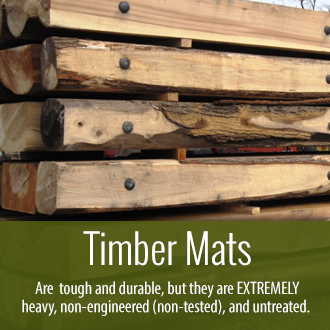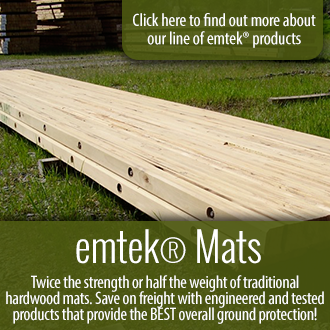 COMMON APPLICATIONS: Road Mats, Crane Mats, Pipeline Mats, Rig Mats, Construction Sites, Ground Protection, Temporary Road Access, Decking, Bridge Mats, Swamp Mats, and more. Strong enough for most track equipment.