Megadeck® Mats have a ribbed interior structure that provides tremendous weight-bearing capacity and allows easy handling with a forklift. A solid HDPE plate is bolted to the top of each mat to close off the ribbed interior and provide a water seal that prevents dirt, water, and debris from penetrating the mat. The top section is sealed with a specialized gasket that handles mat flexure and other everyday abuses. The solid HDPE flange system incorporated in the Megadeck® mat provides strength and shear resistance. The sections may be interconnected using Megadeck®'s proprietary connection system, a self-aligning locking mechanism that connects the overlapping flange from adjacent mats. Contact New South now and order your Megadeck® Mats today.
Size: 14′ x 7.5′
Thickness: 4″
Weight: 1,050 lbs.
Color: Beige. Custom colors available.
Load Tolerance: Supports compressive loads of 500 psi over solid ground.
Limited Warranty: 6 month warranty when used as recommended.
Material: Made of highest quality virgin HDPE, with special impact modifiers and fillers to accommodate thermal expansion, incorporate UV resistance, and to provide tremendous strength. An anti-static (static dissipative) additive is molded into each mat, to allow for use in environments where static could pose a problem.
Mats per truckload: up to 40
NOTE: Load performance depends on ground conditions as well as the weight and type of vehicles and plant.
Megadeck® Specification Sheet | Megadeck® Field Manual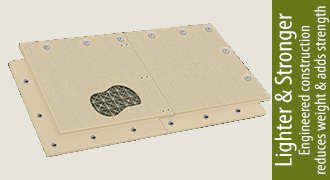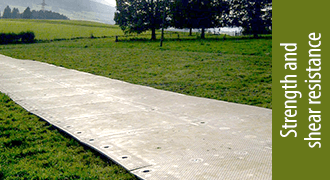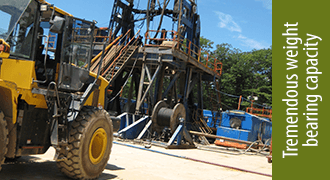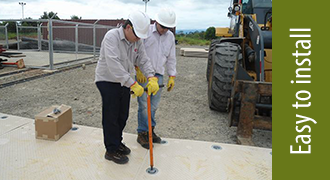 COMMON APPLICATIONS: Electrical Transmission, Construction Sites, Oil & Gas Project Sites, Rig Sites, Pipeline Project Sites, Environmentally Sensitive Job Sites, and more.