The SureTrak® Ped mat has all of the same qualities as the SureTrak® ground protection mat with a different surface for safer pedestrian traffic. The uniform raised surface profile pattern with a sandblasted finish makes this mat ideal for pedestrian use, offering low trip hazard. Contact us today to find out more about SureTrak® products and get the products you need to get the job done.
To download our composite brochure, please click here.
Size: 4′ x 8′
Thickness: .5″
Weight: 79 lbs.
Load Tolerance: 175,000 lbs.
Limited Warranty: 5 year warranty with 10-year field life when used as recommended.
Material: Made of 100% recycled, recyclable polyethylene, and chemically inert (avoids leaching of possible pollutants and non-conductive making it ideal for pedestrian traffic).
Mats per truckload: up to 600
NOTE: Load performance depends on ground conditions as well as the weight and type of vehicles and equipment.
SureTrak® Specification Sheet | SureTrak® Specification Flyer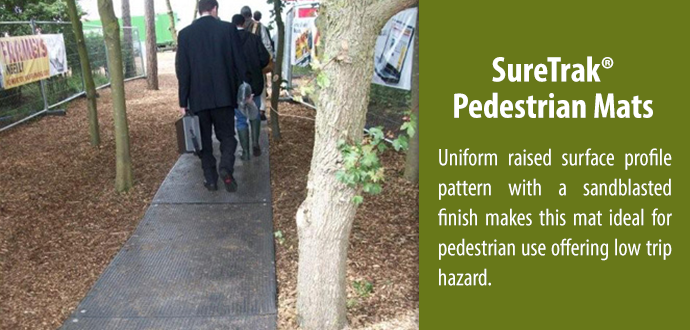 COMMON APPLICATIONS: Walkways or Paths on Electrical Transmission Sites, Landscape Construction Sites, Construction Sites, Oil & Gas Project Sites, Rig Sites, Pipeline Project Sites, and for Festivals and Events.