TuffTrak®XL is a solid core, heavy-duty mat with a chevron traction® surface that is made of chemically inert material ideal for eco-sensitive sites.  This mat handles all types of equipment including excavators, heavy machinery and vehicles, cranes and drilling rigs.  TT®XL has a new bolt connection system that is easy to install. However, TuffTrak®XL is unique as it can be used with or without connectors, adding flexibility of usage under different site requirements. Contact us today to find out more about TuffTrak®XL products and get a quote for your job now.
To download our composite brochure, please click here.
Size: 13′ 5″ x 6′ 8″
Thickness: 1.85″
Weight: 794 lbs.
Load Tolerance: 300,000 lbs.
Limited Warranty: 1 year warranty with a 10-year field life when used as recommended.
Material: Made of 100% recycled or Virgin HD Polyethylene and 100% recyclable.
Mats per truckload: up to 60
NOTE: Load performance depends on ground conditions as well as the weight and type of vehicles and plant.
TuffTrak®XL Specification Sheet | TuffTrak®XL Flyer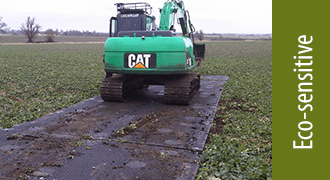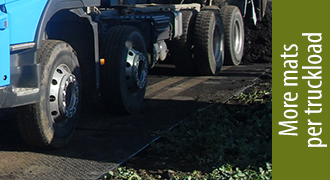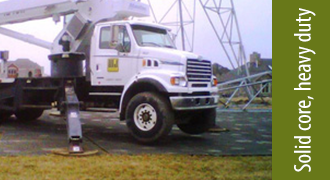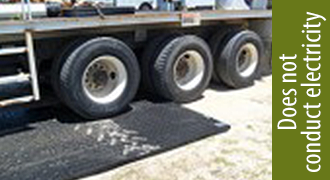 COMMON APPLICATIONS: Electrical Transmission, Construction Sites, Oil & Gas Project Sites, Rig Sites, Pipeline Project Sites, Environmentally Sensitive Job Sites, and more.