New South offers Emtek Construction Mats, which are engineered mats used to enable heavy equipment and construction job sites to operate efficiently and safely. Emtek® mats allow equipment to operate on unstable or soft soil conditions and provide the BEST overall ground protection.
Emtek® mats are engineered to support specified loads. Let New South help you select the right mats for your specific job requirements. Our team of professionals can help you choose the exact thickness, widths, lengths, and amount of mats needed for the job.
New South's offers complete project management to help insure that the job is done right each and every time. Contact us today to learn more about our line of products or to have a member of our team get a quote for you quickly and easily!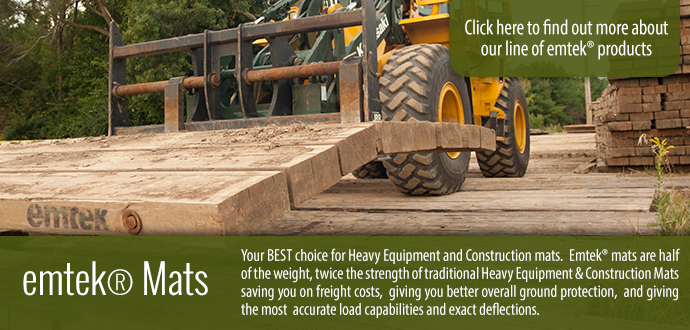 COMMON APPLICATIONS: Construction Sites, Temporary Road Access, Pipeline Sites, Ground Protection, Swamp Mats, Rig Mats, Bridge Decks, Landfills, and more.