RigTrak™ is the rig mat with the most value – better and less expensive! This Rig Mat, also referred to as an Oilfield Mat, Drilling Rig Mat, Pipeline Mat, Crane Mat, Heavy Equipment Mat, Construction Steel Mat, Platform Mat, or Hardwood Mat is used for Ground Protection, as a Temporary Road Mat, or as a stable surface for an oil rig site. RigTrak™ is a steel and wood rig mat used in the Oil & Gas, Pipeline, Alternative Energy, Mining and Construction industries as well as for Civil projects that need a temporary access road. These steel and wood rig mats are stronger and lighter than other rig mats and will handle a high psi. RigTrak™ is available in two sizes – a twenty foot rigmat that weighs 3747 pounds and a forty foot rigmat that weighs 7275 pounds. The width on both temporary access mats is eight feet and the thickness is six inches. RigTrak™ Wood Replacement Door system provides an easy and safe way to replace wood.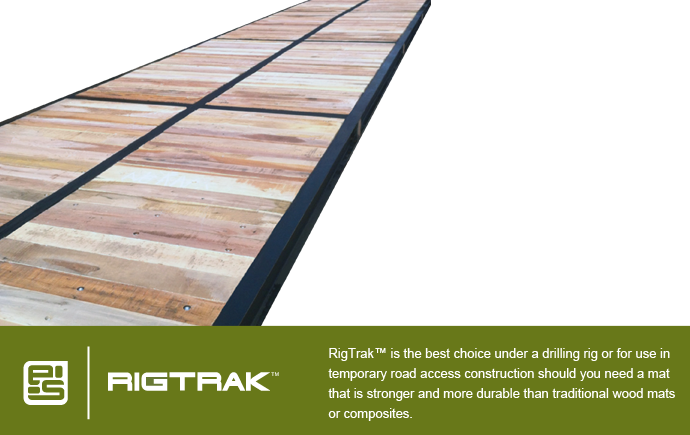 COMMON APPLICATIONS: Drill Pad, Oil field Mat, Crane Mat, Temporary Road Access Mat, Pipeline Crossing Mat, Ground Protection Mat, Temporary Road Access Mat, and more.
Click here for more information.