World's Leading Environmental Access Company Providing Construction Mats, Hardwood & Timber Mats, & Composite Mats

Ducks Unlimited partners with New South for Wetland Protection
"We are proud to have New South on board as one of our newest partners. This partnership will provide wetlands engineers a new tool to use when needed on projects across North America."
Jim Alexander – Senior Director
Ducks Unlimited
Watch, Listen, Learn

View our Wetland Case Study
emtek® Wetland Access System offered by New South protects the fragile ecosystems as it floats on vegetative wetlands.

Watch our emtek® Mats Video
New South offers emtek access mats that are an environmentally safer access solution than traditional construction mats, hardwood and timber mats, and many other types of mats.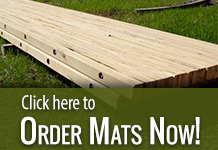 WHO WE ARE
New South New South Access & Environmental Solutions is the world's leading Environmental Access and Mat Company. We provide more than just a full range of mat products – we focus on protecting precious wetlands and site restoration. We help save you time and money through quality products, accurate and best fits for any ground condition, freight advantages, project management to oversee compliance, and avoiding possible mitigation, fines, and penalties.
New South looks at the big picture and all aspects of the project from start to finish. By maintaining proper compliance, and focusing on the final project goal, we are able to give you the most accurate quote based on your specific needs. We deliver the highest quality mats to get the job done and make sure that all environmental concerns are addressed along the way.

Most Popular Mats
New South offers the best options and alternatives for Hardwood & Timber Mats, Heavy Equipment Mats, Composite Mats, Construction Bridge Mats, Temporary Road Mats, Dragline Mats, Swamp Mats, Wetland Mats, Rig Mats, Mud Mats, Truck Mats, and much more! Many mats may have the same description or product associated with them, but are labeled differently depending on the client or industry that uses them.
Common Industries that Require Mats:
Electrical Transmission Industry, Oil & Gas Industry, Pipeline Industry, Construction Industry, Environmental Industry, Mining, Wind Solar Energy, Emergency Services, Railroad, and many others. We offer our products to every type of client, big or small.
After you have reviewed the detailed information on our site, we are sure that you will see the value in our quality products and the many reasons why New South Access & Environmental Solutions is the right company for your project!
No matter where your project is located, give us a call or submit your request HERE and we will find exactly what you need, when you need it!
PROTECT AND CONSERVE OUR NATURAL RESOURCES
LAND, WATER, AIR, PLANTS AND WILDLIFE
WITH NEW SOUTH'S
LOW IMPACT
ACCESS SOLUTIONS