A Complete Range of Services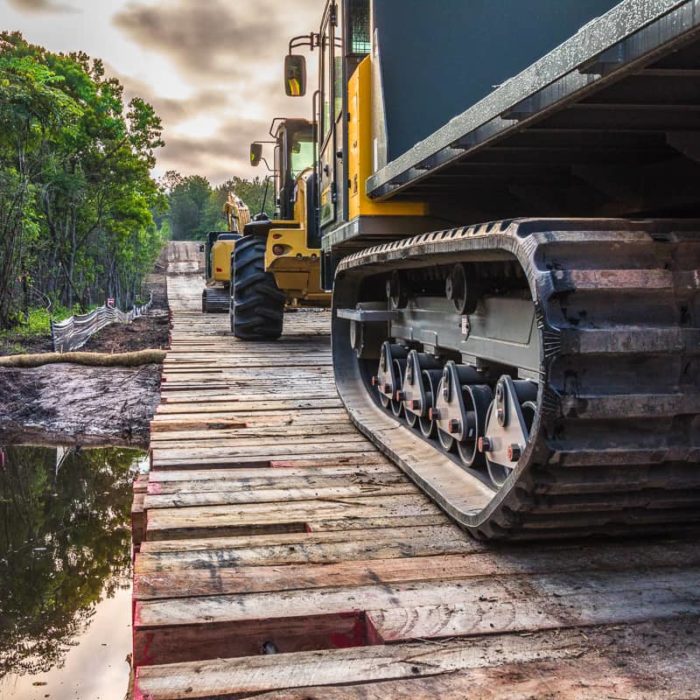 NEW SOUTH enjoys a well-earned reputation for providing the most efficient, most responsible and safest access in the industry. We offer a full range of temporary access mat installations for roads, bridges, wetland access and floatation roadways, project management assistance, civil construction, SWPPP services, and complete site restoration.
We provide more than just a full range of mat products — we offer all the access construction services your worksite needs, with a focus on protecting precious wetlands and restoring construction sites to their original condition. We help you save time and money through quality products that suit your unique application and ground condition, we provide freight cost advantages, we offer project management to oversee compliance, and we help you avoid potential environmental impact mitigation fines and penalties.
Expertise and Knowledge
Our skilled professionals have years — even decades — of experience working on a variety of access construction projects in diverse industries. In addition to mats and temporary access construction, we provide comprehensive project management services, access plan development, full civil services on your site and methods for protecting the environment. NEW SOUTH has the ability to create custom solutions to all your access challenges.
Access to an Extensive Mat Inventory
Whether your project calls for matting to create a temporary road, reduce ground pressure or protect the environment, we not only help you select the right products for your requirements, but we also provide the mats in the type, size and quantity you need, and have them shipped to your worksite in plenty of time.
Through our sister company, YAK MAT, NEW SOUTH has access to a million-mat inventory and 70 mat yards strategically located throughout the United States. Regardless of where your project is located, chances one of our mat yards is nearby, which means that working with us helps to reduce your freight costs, often a significant portion of your budget.
Environmental Access Solutions
NEW SOUTH provides the required project site environmental services, including environmental and threatened species protection and restoration. NEW SOUTH, in partnership with the manufacturer of emtek(r) mats, offers the most responsible wetland access system that floats on vegetative wetlands, leaving minimal impact and protecting the fragile ecosystem.