We're Active in This Growing Industry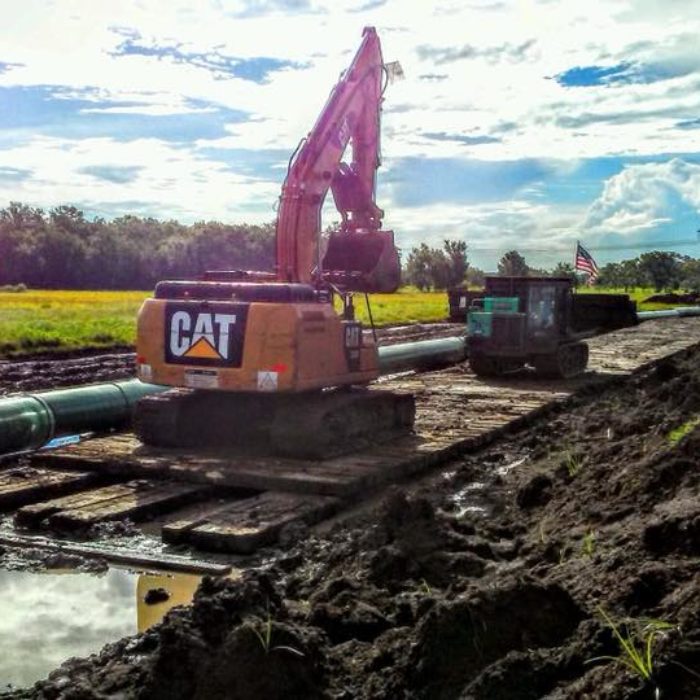 Some players in the midstream sector self-perform the installation and removal of pipeline mats or hire multiple companies to clear the site and construct the access roads and bridges. NEW SOUTH understands your requirements and we want to be your full-service provider of midstream pipeline services. We will do it all for you, including source the right mats for your specific application.
How We Work in the Midstream Market
Because these projects move quickly, it is critical for service providers building access down a pipeline right-of-way (ROW) to stay ahead of the pipeline contractor's crews. Access companies must also know how to lay pipeline access mats on these worksites. The process differs from power line access installation; midstream access is more precise and the mats are clumsy, requiring fast and accurate crews — like those at NEW SOUTH.
ROW for pipeline construction covers a lot of ground, and that means utilizing large amounts of mats — perhaps thousands. Mat availability is a crucial factor in staying on deadline, so our partner company (YAK MAT, the largest mat distributor in the country) plays an important role in our being able to deliver what midstream companies need when they need it.
Proper wetland access is feasible for pipeline projects. NEW SOUTH's field operations manager and an Emtek® specialist designed an Emtek Wetland Access System to work effectively on a midstream project in Iowa, Louisiana.
Make Us Your Preferred Access Provider
As a leading midstream construction company, NEW SOUTH does so much more than provide pipeline mats to our midstream customers. We know how to build access on a pipeline ROW and we know how to work with pipeline contractors to complete your project within your deadline and on budget. We also offer complete pipeline erosion control and other value-added services to ensure the best results.
We are capable of solving problems with innovative solutions. The need for wetland access is rare but it does happen, and when you need wetland access, you need NEW SOUTH. We are the preferred provider of the EWAS solution mentioned above.
Our crews build stable, secure access on pipeline ROWs that safely support your heavy cranes and the type of work you perform. When we install a temporary road or bridge, you can be confident that your contractors work as safely and efficiently as possible, while meeting your timeline and budget.